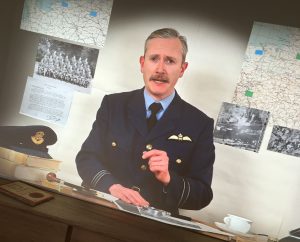 Our multimedia producers were in the west wing at the National Trust's Hughenden Manor in High Wycombe last week to install the audio visual and interactive displays for the new 'Hillside' exhibition, which tells the story of the cartography personnel secretly stationed here during the Second World War. Working as part of a wider network the highly-skilled officers and civilians were tasked with drawing up target maps for nearby Bomber Command.
After a timeline introduction visitors can expect to receive a virtual briefing from the RAF officer in charge who firmly states why their mission is so crucial to the outcome of the war. Some of the target maps, including Berlin and Dresden can be explored digitally in great detail along with Pathé film clips. On entering the 'drawing office' they will find cartographers desks, cartoons, conversations, wartime music and news bulletins bringing the room to life. Personal memories can be heard from the people who actually worked here as well as their descendants who were children at the time.
The final section of the exhibition explores the devastating impact of war. The nature of this story is often engaging, humorous and human, whilst at others times it is thought provoking and tragic. The exhibition is due to open in July.