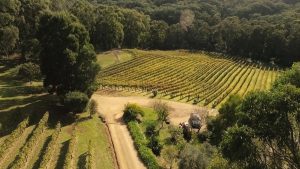 CMC has been working with our Australian colleagues to create promotional material for wineries on the Mornington Peninsula, Victoria. This has been a collaborative process with our partners there producing storyboards, drone footage and interviews, composing music and recording voiceovers. These media assets were then uploaded to CMC Flow so that we could fine tune the master movie and create the Vinewalk brand here in Scotland.
The marketing movie – Vinewalk – Rahona Valley Winery – is the first of a series of Vinewalks that will be produced for the wonderful wineries of the Mornington Peninsula. The movie has already been used in promotional events in Australia and is now on the Rahona Valley Winery's web site.
We have now generated still images and shorter clips from the original 'footage' to be used in Vinewalk's social media campaign which we will be undertaking shortly.