Client: Birr Scientific and Heritage Foundation
Date: April 2015
CMC has produced a mobile app to enrich the experience of walking around the wonderful gardens and grounds of Birr Castle. The app features GPS-triggered content, providing an abundance of information on the plants, trees and landscaping of this beautiful site. Audio narration is provided by Lord and Lady Rosse and is accompanied by maps and photography to help visitors find their way.

• Download the android version from Amazon
• The tour as featured on the Birr website
Lord Rosse describes a eucryphia and the wonderful scent of a very special magnolia:
Transcription:
In the footings of the suspension bridge there's something of a peat bed with a number of eucryphias in it. Including on the left one with foliage which is white, or silver tipped and this is the special eucryphia, the most recent of the eucryphias named after nymans, the Eucryphia nyman silver. Only planted shortly after the plants discovery in 2013 and yet to flower. In the corner of the same bed there's yet another plant named after, or associated with, certainly discovered by Augustine Henry, the Itea ilicifolia, with long bracts that I think are very elegant and almost like those of a wing nut and smell slightly of honey. Staying with eucryphias, if we look ahead towards the well, straight ahead of us, one sees a full size Eucryphia nymansesis with a marvellous tower of white in August.
To the right of it one of our favourite trees from Birr, the June flowering Magnolia officinalis or incense magnolia as we like to call it, because it really does smell of real incense, incredibly sweet and just one flower of that is enough to scent half the castle for the great receptions. It is the flower that we use for special events like when I gave my daughter Alicia away in marriage it was a single bloom of that she had with her.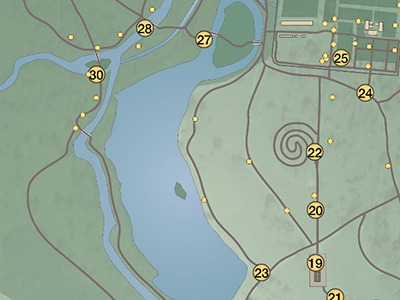 I really like the way you have the written text and audio for each location available.

And I like the way it is easy to hop around the locations in any order from the map.

… we have tried various audio guides and so far this is the most useful. Will visit Birr Castle & Gardens next Sunday, and will use it while there.

Comment from a satisfied user